Bike Parking Solutions
Not all bike racks are created equal. We Are Traffic can help you find the right bike parking for your space.
We are more than avid cyclists at We Are Traffic, it is our mission to promote infrastructure that encourages transportation cycling. We know the challenges and frustrations people face when trying to find secure bike parking because we hear about it all of the time. We make recommendations that cyclists appreciate. Space limitations, user demands, surface types, security needs, concerns about appearance, and budgets all play a factor in selecting the right bike parking. We Are Traffic has over 10 years of experience advocating for better bicycling in Georgia, Tennessee and now in Northwest Ohio!
We Are Traffic helps you navigate regional bike parking standards and permits, recommends quality bike racks to best meet your needs, and offers free site-visits to make sure it's done right. We Are Traffic has teamed up with Dero Bike Racks in this effort. Dero has been supplying innovative, high quality, thoughtfully designed bike parking and bicycle transit solutions to architects, contractors, municipalities, higher education, and parks and rec since 1995. Together we offer exceptional customer service, quick turn-around for quotes and invoices, and free CAD layouts. All bike parking sales benefit We Are Traffic's bike advocacy efforts.

Below are some popular choices to help get you started. Dero offers a wide range of styles and finishes, including custom racks to meet your budget and taste. If you need more information or are ready to place an order let us know.
Contact Keith Webb at keith@WeAreTraffic.org or 567.225.4032 to learn more.
For temporary Event Bike Parking options, check out our valet racks.
Hoop Rack
The Hoop Rack is a proven design that provides high security and easy bike parking. The Hoop Rack uses thick pipe construction and the full radius of the bend makes the Hoop an attractive and functional bike rack. There's a Heavy Duty version too for added security.
Swerve Rack
The design of the Dero Swerve mirrors the bike frame, thus providing superior bike support while making it easy to secure both the bike frame and wheel with a standard u-lock. Dero Swerve Racks are popular with architects and universities because of their aesthetic design and space efficiency.
Bike Hitch
The Dero Bike Hitch is an attractive and space efficient bike rack. The Dero Bike Hitch was specifically designed for sidewalks and other narrow space applications. The rack's design restricts bikes to parking parallel with the rack so bikes won't protrude out into the sidewalk or street.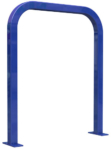 Downtown Rack
The Downtown Rack uses thick, square-tube construction that can't be cut with a pipe cutter. The extended width of the Downtown Rack makes for easy bike parking by giving the bike full support and multiple locking points for a u-style bike lock. The elegant yet simple style lends itself to notable properties.
Break-a-way nuts or concrete spike anti-theft hardware options are included with the Downtown Rack.
Campus Rack
The Campus Rack provide you with superior bike support, orderly bicycle parking and high security.
The Campus Rack is available in single or double sided models in various lengths. The single sided model is ideal for sidewalk placement, while the double sided model staggers bikes opposite from each other for greater space efficiency. The Campus Rack will also accommodate scooters.
Ultra Space Saver
The Ultra Space Saver provides easy and ample space for u-lock security on nearly any bike, including bikes with fenders.
The Ultra Space Saver is an easy to install, modular system. It can be made to fit in nearly any space. Options include: wall-mount, floor-mount, and double-sided. It's the perfect solution for a new bike room.
Fixit
The Fixit includes all the tools necessary to perform basic repairs and maintenance, from changing a flat to adjusting brakes and derailleurs. The tools and air pump are securely attached to the stand with stainless steel cables and tamper-proof fasteners. Hanging the bike from the hanger arms allows the pedals and wheels to spin freely while making adjustments. Few things say, "we love bikes" more than a Fixit.
Custom Racks
Got an idea for a great bike rack? Send us a rough sketch on a napkin, a logo, or just an idea – and we will work with you to turn your concept into a fully functional piece of street art.